Physiotherapy, Yoga & Osteopathy
Helping alleviate pain and restore freedom of movement and mobility with targeted holistic physiotherapy & Iyengar yoga.
Physiotherapy combined with powerful hands-on osteopathy techniques for gentle, effective pain relief.
Book an appointment to experience the holistic physiotherapy difference.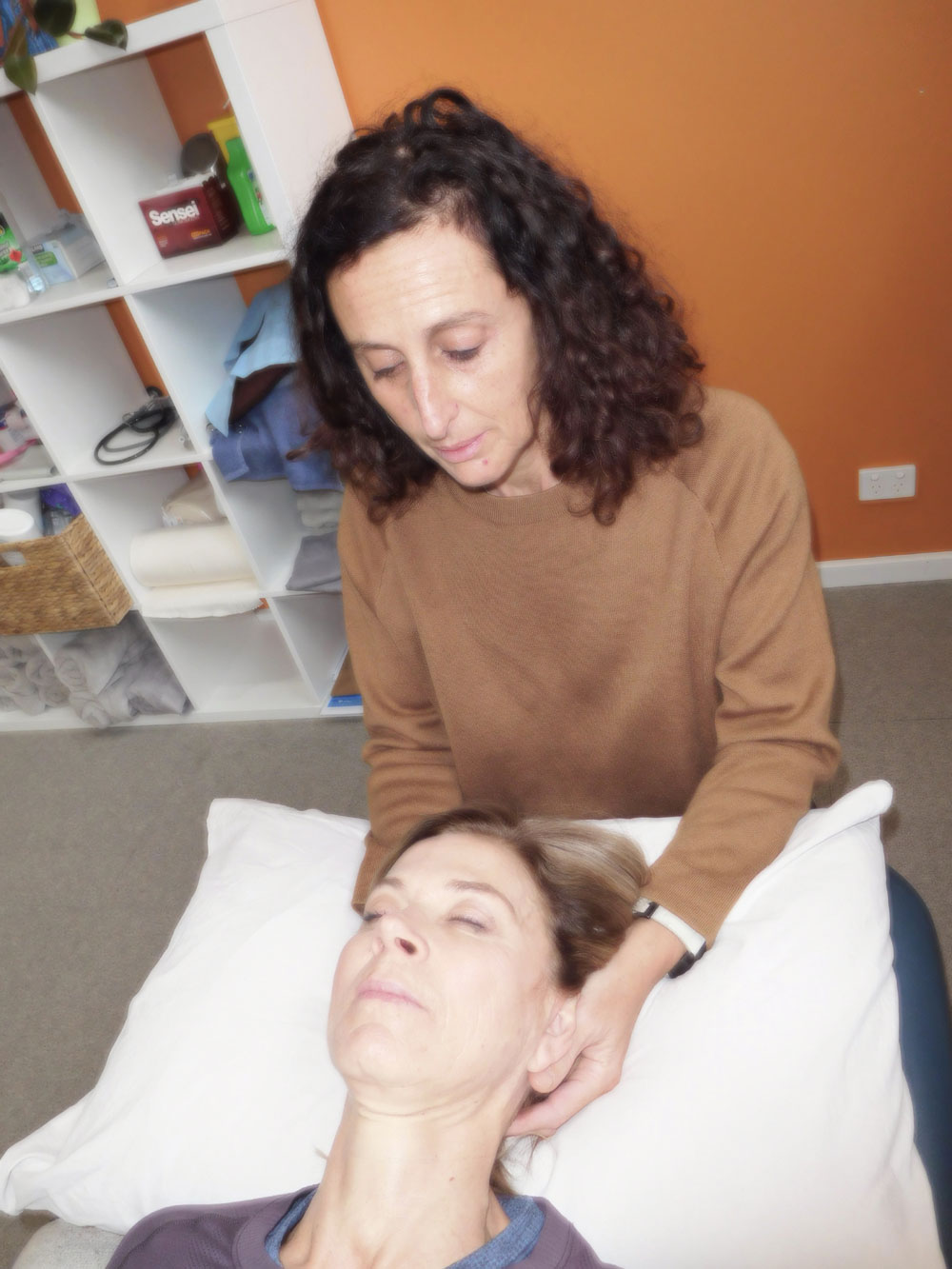 Your Local Footscray Physio For Gentle, Effective, Pain Relief
At Melbourne Holistic Physiotherapy, we are dedicated to providing effective pain relief and helping restore physical function, mobility, and freedom of movement for individuals suffering from chronic pain, sports injury and those in post-operative recovery. Our holistic approach combines the profound knowledge of anatomy, physiology, and pathology with hands-on methods that focus on treating the whole body to help bring it back to balance.
Vanessa Shribman – Footscray's Holistic Physiotherapist
Introducing Vanessa Shribman, the founder of Melbourne Holistic Physiotherapy, located in West Footscray. Drawing from her own personal journey of recovery following an accident, Vanessa is deeply dedicated to helping clients alleviate pain and enhance their mobility and movement, so they can get back to living their best lives. With over a decade of experience, she offers gentle, compassionate care and specialises in helping individuals dealing with chronic pain.
A Powerful Combination of Physio & Osteopathy Techniques
Traditional physiotherapy primarily focuses on diagnosing and treating physical injuries, muscular-skeletal conditions and mobility issues. However, as a holistic physiotherapist, Vanessa offers a unique blend of physiotherapy treatments combined with wide range of osteopathic techniques to offer a more holistic and personalised treatment plan.
Break free from Chronic Pain
Vanessa understands first-hand how frustrating, stressful and hopeless it can be to see numerous practitioners, undergo multiple treatments and follow strict exercise guidelines yet still be trapped in a cycle of chronic pain. Combining traditional physiotherapy with powerful osteopathy techniques including visceral manipulation, cranio sacral techniques and trigger point therapy can provide the extra help needed to nudge the body in the direction it needs to heal and help manage or break the cycle of chronic pain.
What conditions can Holistic Physiotherapy help with?
Upper and lower back pain
Acute and chronic pain associated with back injury, disc degeneration and herniation, stiffness and poor posture
Facet joint pain.
Facet joint pain is sharp and breathtaking especially when twisting. Holistic physiotherapy can help free up the facet joints.
Lower back pain
Including discogenic pain from bulges and degeneration
Shoulder pain and stiffness
Shoulders need a balance of muscles, joints and ligaments to be pain free. Over conditioning in the gym of the pectoral muscles can lead to impingement leading to inflammation and pain. Holistic physiotherapy brings balance to the structures around the shoulder.
Pain and stiffness from Scoliosis
Upper and lower back stiffness from scoliosis can be minimized by regular joint mobilization. Pain is concentrated at the apex of the curves especially if you don't stretch and stay mobile.
Post natal stiffness
Your body is tired and stiff in the postnatal period. There maybe issues with the pelvic floor, back pain and recovery after cesarean. Holistic physiotherapy can release scar tissue resulting from a cesarean, release upper back and neck pain from frequent bending and cuddling and help balance the pelvic floor muscles.
Pelvic and Lower back pain in pregnancy
Osteopathy can help with maintaining the alignment of the pelvis and lower back in pregnancy thus reducing pain and assisting with optimal positioning of your baby in labour.
Knee pain
Knee pain can originate from a sports injury that can lead to arthritis. Arthroscopies are ineffectual and can make the problem worse. Working on the imbalances of the feet and hips can help the knees.
Rib pain
Over winter I have many clients after flu and pneumonia that have painful ribs from coughing. Rib pain also comes from trauma, sports and poor posture. Many techniques in holistic physiotherapy can address this.
Headaches and migraines
These can be caused by neck misalignment, decrease in cranial bone motion and venous compression. Osteopathic techniques can help with these.
Neck pain from whiplash and computer posture
Has long lasting effects if not dealt with and can lead to neck stiffness and pain.
Neck pain neck pain is incredibly common because of the amount of time we spend gazing at a screen. This leads to a chronically forward head posture and a stiff upper back. Holistic physiotherapy balances the muscles at the front and back of the neck.
Tennis/ golf elbow
Tennis/ golf elbow involves the tendons of the elbow. Correct alignment can help reduce pain.
Sports injuries
Many and varied. Trauma can be successfully dealt with holistic physiotherapy
Shoulder tendonitis and frozen shoulder
These conditions are hard to treat but respond well to the techniques of visceral osteopathy.
Urinary urgency and incontinence
Visceral manipulation can help with urinary incontinence
Holistic Wellness Hub – With Physio, Osteo & Yoga
Vanessa provides physio treatments and Iyengar Yoga classes for a diverse and vibrant community of people in West Footscray, Footscray and Melbourne and is one of a few practitioners in Melbourne, offering visceral manipulation. She will work closely with you to develop a personalised treatment plan that combines manual therapy, exercise, and other modalities to restore your body's strength, flexibility, and agility.
Manual Therapy
Stretching & Exercise
Ultrasound Therapy
Visceral Manipulation
Craniosacral Therapy
Strain Counterstain
Muscle Energy Technique
Trigger Point Therapy
What is Holistic Physiotherapy?
Holistic physiotherapy comprises of techniques that treat the body as a whole. Conventional physiotherapy may just treat the local area if a patient walks in for instance with shoulder pain. The body is a complex and finely tuned mechanism unique to each individual. A trauma in one part of the body can cause pain in another. Holistic physiotherapy works with this premise and uses a visceral technique called 'listening" with the hands to find where the greatest restriction sits. The techniques used were developed by prominent osteopaths (go to the 'about us' page to find out more) and include visceral manipulation, cranio sacral therapy, trigger point therapy, muscle energy technique and strain-counter-strain therapy.
Do I need a referral from my GP to see a physio in Footscray?
You can attend a physiotherapist without a referral.
What should I bring to my initial physio appointment?
Please bring any relevant X-rays and reports.
What should I wear when seeing the physiotherapist?
Wear loose comfortable clothing. Yoga gear is too tight and please don't wear jeans or a dress. Sports shorts can be provided if you forget.
What should I expect at my first physio appointment?
A thorough case history is taken including looking at reports and scans. An examination, including looking at your pattern of movement in the affected area and your pattern of gait is undertaken. Treatment is hands-on therapies and this will take place over most of the appointment. This is individualised for each client to reduce pain and restore balance to your body.
Do I have to remove my clothes?
Therapy is carried out fully clothed unless the clothes are tight or bulky. I will ask you to remove watches and large pieces of jewellery.
Can I bring a friend, relative or my child whilst seeing the physio?
You are welcome to have someone accompanying you to the visit. If you bring a small child please bring someone to care for them during your treatment.
How long will my physio appointment take?
The initial consult is 60 minutes. Thereafter if your condition is complex it is recommended to attend extended consults for 60 minutes. As the condition resolves appointments are 45 minutes long.
How will I feel after the treatment?
You may feel sore for up to 48 hours after the treatment. It is recommended that you go for a gentle walk, have a warm shower or bath and drink plenty of water.
These treatments are deep acting and can take up to 14 days to completely settle into the body. As the treatment settles in you will feel more movement and less spasm and pain depending on the condition.
Do I need to rest or can I return to my usual routine immediately post-treatment?
It is recommended that you don't return to demanding physical activity such as sport of gym work within 24 hours of receiving a treatment.
Can I receive healthcare rebates on physio appointments?
Yes you can receive rebates from your private health plan and you are also able to visit your GP who will provide you with an Allied Health Plan. This allows you 5 visits with an allied health care professional where Medicare will pay $53.80 towards the visit. You will still be liable for the gap.
How many physio appointments will I need?
This depends very much on your condition. Initially appointments maybe weekly for 4-5 weeks and then they will spread to fortnightly and then further apart. We will collaborate and come up with the most ideal appointment schedule for you. If the problem is uncomplicated 2-3 visits may resolve it. Those with chronic pain and conditions or those involved in high performance sport may find that maintenance treatment monthly avoids pain and injury.
How much does a physio appointment cost?
An initial consult or prolonged consult lasts for 60 minutes and is $140. A portion of this is claimable on your private health plan.
Will I need any additional scans or investigations?
If there is no perceived improvement after 2-3 visits it maybe advisable to have a scan or other investigation to clarify what maybe the cause of pain.
Success Stories
Discover the positive impact our holistic physio treatments have had on the lives of our clients.
After surgery I attended nine conventional physiotherapy sessions to try and relieve my chronic back pain, which only provided very temporary relief each time. I then started looking for alternative treatments to manage my pain.
A colleague at work suggested Melbourne Holistic Physiotherapy as an option and I was lucky enough to get an appointment. I was surprised with the comprehensive assessment that Vanessa did on my first visit and also that I did not leave there all bruised and sore from the treatment.
I was initially a little sceptic that this might not work, because compared to my experiences from other physiotherapy and myotherapy, the treatments was much less forceful.
But after only 3 sessions with Vanessa, I was able to stop taking my daily slow release Tramadol tablets and only had to manage ad hoc pain with Panadeine Forte. Now I no longer need Endone to sleep through the night and was able to return to work fulltime after only 4 treatments!
I will continue to see Vanessa as needed or when my SI joint acts up again, but I am no longer depressed, taking pain medication or struggling to sleep.
I thought I would never be able play games with my three boys or participate in sport again, but I am already running short distances and trying to rebuild my base fitness.
I am grateful to Sam for recommending Melbourne Holistic Physiotherapy.
Vanessa's physio service and superior knowledge are amazing, really different to any physio I have experienced. Apart from her knowledge I think Vanessa has a high sense of natural ability or intuition and can identify issues by her own observations and analysis and then is able to treat the issue. I feel much better when I have been treated and results are apparent as I have greater mobility and less or no pain. She has also given me simple and effective exercises to work to prevent issues .
I was in such pain before I went to Vanessa. I felt twisted and unable to move freely. As a full time performer who needs to dance, I was finding that the state of my body was inhibiting my work and getting in the way during rehearsals. After one session with Vanessa, I could move more freely, my pain had released and I finally felt my feet flat on the floor and that I was more in my body and balanced. After my second session, my body was back to normal. I am performing full time in a show now and feel like my body is working for me rather than against me. I would HIGHLY recommend Vanessa's treatments not only as a cure for pain but to be used for regular maintenance as a preventative.
"I first came to see Vanessa after a car accident 2 years ago. My body was injured and so was my mental state; I was in tears in her office quite a few times. Vanessa is so amazing at what she does and 2 years on, my mind and body is stronger and more capable than it was before the accident. She has taught me so much about acceptance, overcoming injury and self-compassion along the way. I am so grateful to have found Vanessa when I did and have recommended her to all my friends and family. Thank you Vanessa, you have truly made such a big difference to my quality of life".
Email Melbourne Holistic Physiotherapy
Physiotherapy Bookings
Vanessa works on Wednesdays, Fridays and Saturdays at her home clinic in West Footscray. You can book a physio appointment online by clicking on the link below or by calling 0423912452.
Please allow 60 minutes for your first appointment and come suitably dressed. Please check the FAQs for more information about your appointment or email me.
Contact Info for yoga
The Body Voice Centre, 50 Wolverhampton St, Footscray 3012
0423912452


Location of Melbourne Holistic Physiotherapy