Yoga Footscray, Melbourne
All yoga classes are held at the Body Voice Centre 50 Wolverhampton St, Footscray.
Your Local Yoga Studio
Transform your mind, body and spirit at our Iyengar yoga studio based in West Footscray. Our Footscray yoga classes provide a safe and inclusive space to practice yoga. We welcome people of all levels and cater for beginner yoga, intermediate yoga, advanced yoga and pregnancy yoga.
Iyengar Yoga
Iyengar yoga is a progressive yoga practice designed to promote correct alignment and posture whilst building strength and flexibility. Vanessa Shribman, your instructor is a highly trained and experienced yoga teacher (Physiotherapist and Birth Educator) and will adapt the poses to suit your experience or injuries. Yoga sessions start with a gentle warm up, followed by a variety of different asanas (yoga poses) and finish with a beautiful relaxing meditation.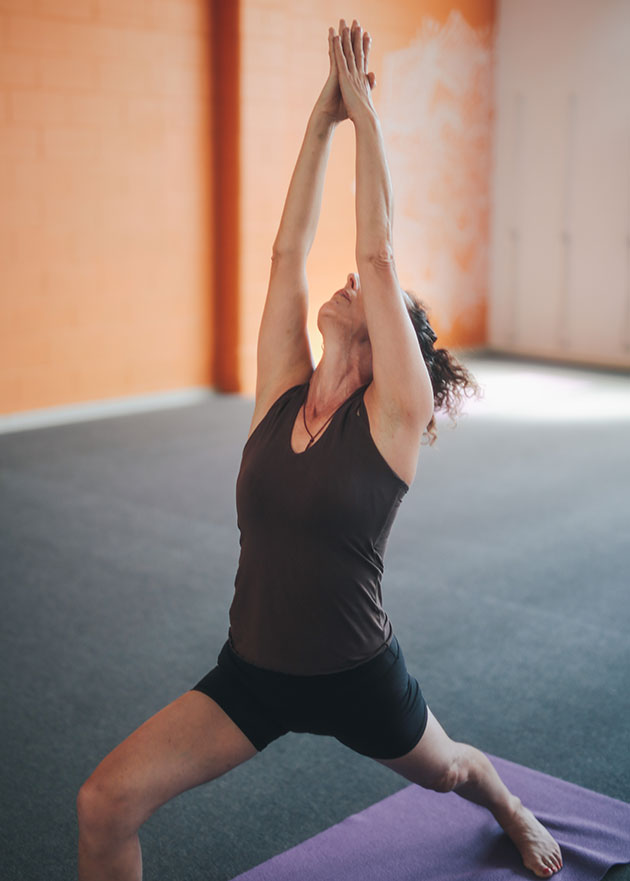 Yoga Footscray – Yoga Class Types
for Urban retreats Intensives and Retreats please go to Retreats and Events in the menu
Iyengar Yoga – General Yoga Class
This is one of our most popular classes and anyone who has completed at least 6 months of yoga is welcome to join. Included in general classes are intermediate and advanced yoga practices, Vanessa can modify moves to suit yoga practitioners with injuries. Classes cover a variety of different yoga poses each with its own specific benefits.
Our Iyengar yoga classes in Footscray, use the power of focused breathwork and precise alignment to build your flexibility, strength and balance. Under Vanessa's guidance, you'll receive expert instruction on the correct alignment for each pose, ensuring you learn the proper techniques. Our Iyengar yoga classes are designed to be progressive, where each move seamlessly leads to the next, allowing you to gradually master more increasingly challenging poses.
Iyengar Yoga – Therapeutic Yoga Class
Our therapeutic yoga classes are a slow-paced gentle yoga class for people who are recovering from illness or injury. Therapeutic yoga is particularly well-suited for those recuperating from surgery, navigating the challenges of cancer recovery, or managing chronic conditions like MS and acute back pain.
If you're dealing with an injury and looking for a safe and professionally supervised way to reintroduce movement into your life, this class is designed with you in mind. We understand that you may be apprehensive or anxious about joining a class for fear of reaggravating the injury, but these specialised classes use modified poses tailored to suit your unique condition. Therapeutic yoga offers a deliberate and gradual journey, focused on building safe movement patterns to progressively enhance strength and muscle flexibility.
Iyengar Yoga – Pregnancy Yoga Class
Our pregnancy yoga classes are designed to cover all stages of pregnancy and prepare participants for a positive birth experience by preparing the mind & body. Please see our pregnancy yoga page for more details.
Click here to do a full yoga class for back pain with Vanessa on Youtube.
General Yoga Class Information
Parking is available on Wolverhampton St
Equipment is provided but it is preferable to bring your own mat.
Please wear comfortable clothing and practice in bare feet.
Do not eat directly before the session.
Your class pass can be used for all classes with Vanessa
If you would like more information about the classes please call Vanessa on 0423912452
Yoga Class, Prices & Discounts
Classes are aligned with school terms for ease and convenience. There is a limited program in the holidays to ensure continuity. To make our yoga classes more accessible and cost-effective we offer both casual prices and discounted pre-paid options. Prepaid yoga classes offer discounts of between 11-25% from casual class prices, and are available in blocks of 5, 10 or 20 classes (see opposite). Passes can be used for any of the classes Vanessa teaches. You can buy your class pass below. You do not need to book into every class you wish to attend.
Yoga Class Prices:
Casual class $26
5 class pass $115 – $23 per class (7 week expiry)
10 class pass $200 – $20 per class (13 week expiry)
20 class pass $380 – $19 per class (13 week expiry)
There is no refund on class passes. Passes can be used for all classes with Vanessa
You can join at any point throughout the year.
 Term 1 2024 starts Thursday January 18th
Therapeutic Yoga
Easy Pace, Therapeutic Yoga and Yoga for Back Pain 6-7pm Thursdays 10 weeks- Fee $200
Iyengar Yoga
Iyengar General Level Thursdays 7.15-8.45pm for students who have completed 6 months of yoga
Beginner's Yoga 
25 basic poses taught with alignment, progressive strength, flexibility and stamina Saturdays 9.30-10.30am starts February 3rd 2024
Pregnancy Yoga
8 week course starts Friday February 2nd 2024
Fridays 5.30-7pm – Fee $200
Saturdays Term 4
Iyengar General class 8am- 9.15am
Beginner's Class 9.30-10.30am starts February 3rd for 10 weeks Fee $200
Book And Pay Your Yoga Classes Online
Iyengar yoga teacher Vanessa Shribman
Vanessa Shribman is an Iyengar yoga teacher of 34 years experience teaching Beginner's yoga, Intermediate yoga and Advanced yoga in West Footscray, Melbourne. She is also a childbirth educator and teaches pregnancy yoga and birth skills. She is also a holistic physiotherapist. She came across Iyengar Yoga in 1987 in India and over the years has worked with senior teachers from all over the world including BKS Iyengar and other members of his family.
What is Iyengar Yoga?
Iyengar Yoga is an authentic, dynamic method of yoga based on the teachings of BKS Iyengar who died in 2014. It strengthens and stretches the body.
Each class is different. Classes are dynamic and exciting. There is a relaxation at the end of each class.
Your teacher will show you the correct alignment in each pose so that you are learning correctly
Poses are modified for you if you have an injury or medical condition.
Students progress methodically with strength and flexibility to master more challenging poses
Iyengar yoga is a practice accessible to all ages
Vanessa opened the Coast Yoga Centre in Glenelg, South Australia in 1994 and has directed it since.  In 2019 she relocated to Melbourne to be closer to her 3 children.
She now teaches in Melbourne At the Body Voice Centre in Footscray.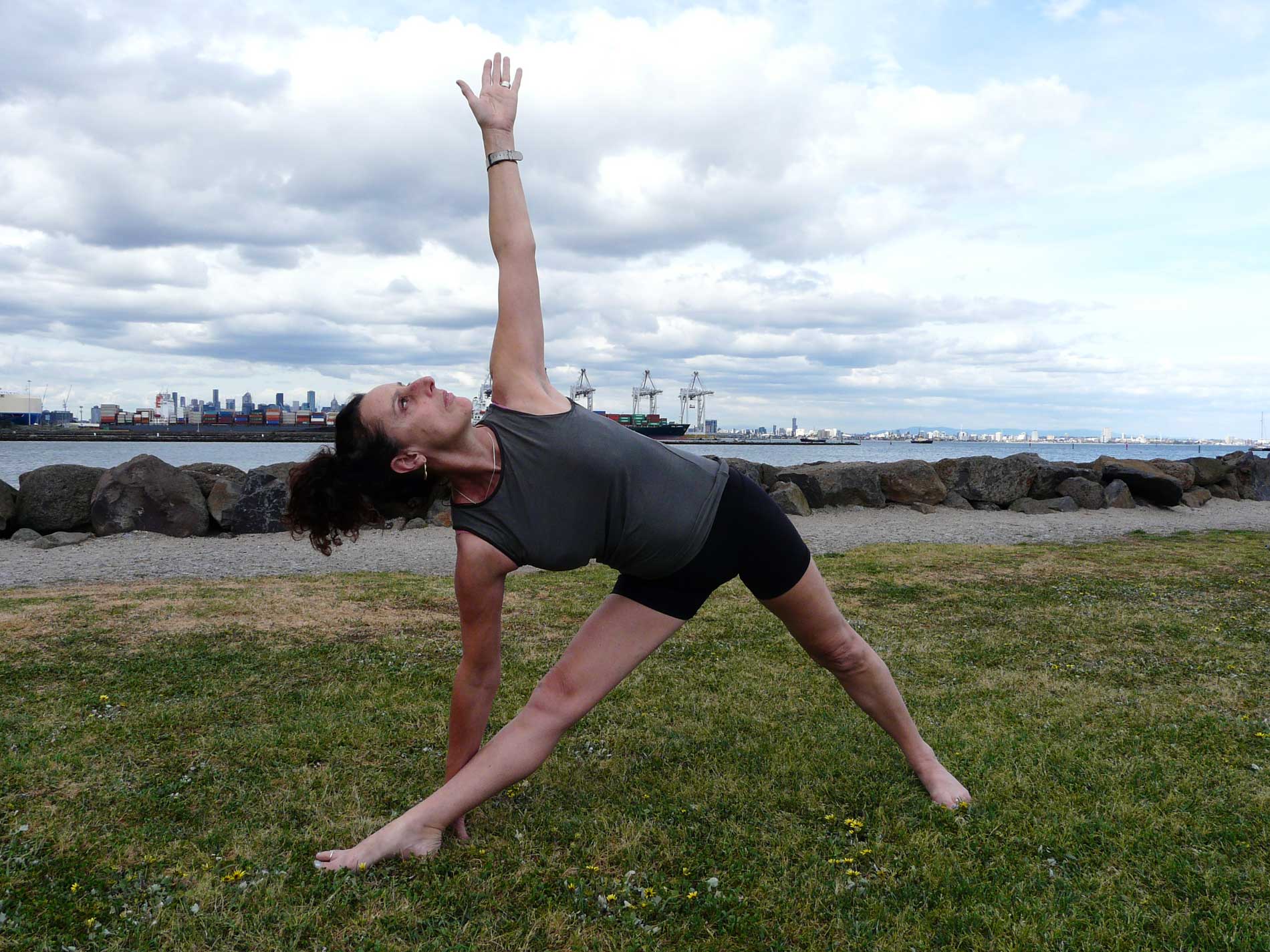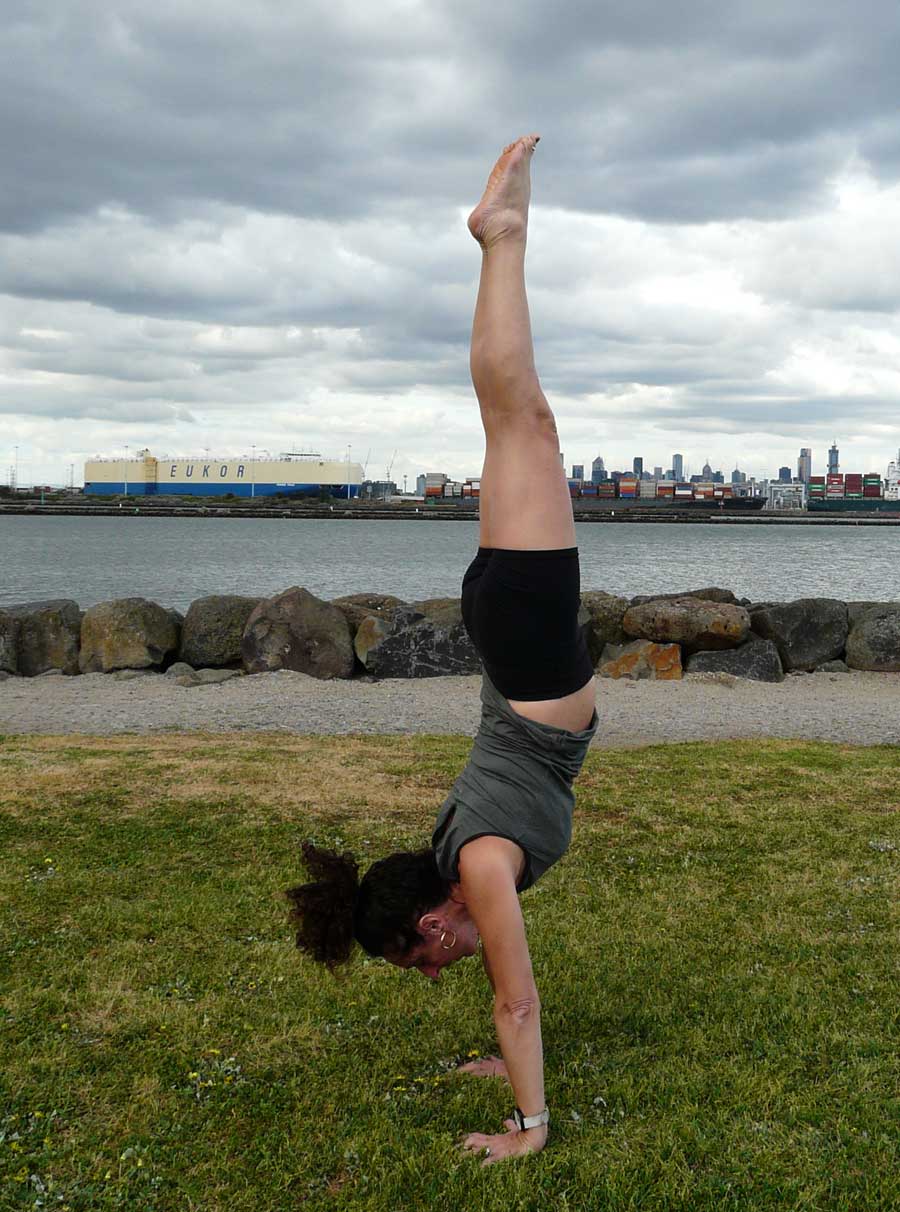 Holistic Package
Vanessa combines her physiotherapy understanding and practice with her knowledge of  yoga to help students who have had long standing pain to get back into moving safely. She works gradually with hands on holistic physiotherapy techniques and yoga to bring about profound and lasting change in the body and mind. Neuroscience tells us that chronic pain, felt in the body, takes root in the connections in the brain. The main way to resolve the pain is to exercise. In order to resolve the pain we must start to move again and reprogram those connections that tell us that the body is in pain, to feel pain free. The more ways in which we move the better. Yoga is a perfect medium for this. It can be slow and cautious but it introduces movement in many different ways and can be graduated to suit the individual.
Vanessa will set up an individual program for you that you can practice at home. She will revisit this with you each week or two.
Combining yoga and birth knowledge
Vanessa has also developed pregnancy yoga and birthing skills classes combining yoga and birth knowledge. She trained as a childbirth educator and has taught Prenatal Yoga and Couples Birth Workshops for the last 30 years. Her focus is on keeping birth as normal as possible and finding confidence in your own resources for birth. Classes focusing on natural pain techniques and confidence for birth greatly reduces intervention rates, cesareans, perineal trauma and birth trauma.
Email Melbourne Holistic Physiotherapy
Physiotherapy Bookings
Vanessa works on Wednesdays, Fridays and Saturdays at her home clinic in West Footscray. You can book a physio appointment online by clicking on the link below or by calling 0423912452.
Please allow 60 minutes for your first appointment and come suitably dressed. Please check the FAQs for more information about your appointment or email me.
Contact Info for yoga
The Body Voice Centre, 50 Wolverhampton St, Footscray 3012
0423912452