Yoga West Footscray Melbourne
Yoga classes are held at the Body Voice Centre 50 Wolverhampton St, Footscray
Classes align with the school terms.  You can buy your class pass below. You do not need to book into every class you wish to attend. You can use your pass for any of the classes Vanessa teaches.
Yoga class Information
Parking is available on Wolverhampton St
Equipment is provided but it is preferable to bring your own mat.
Please wear comfortable clothing and practice in bare feet.
Do not eat directly before the session.
Your class pass can be used for all classes with Vanessa
If you would like more information about the classes please call Vanessa on 0423912452
Yoga class prices:
5 class pass $115 (7 week expiry)
10 class pass $200 (13 week expiry)
20 class pass $380 (13 week expiry)
Casual class $26
There is no refund on class passes. Passes can be used for all classes with Vanessa
Vanessa is an Iyengar Yoga Teacher, Physiotherapist and Birth Educator.
f you cannot start at the beginning of the term you can join midterm and pay for the remaining weeks of that term or attend casually.
Term 4 2023 starts on October 19th 
Easy Pace, Therapeutic and  Yoga for Back Pain 6-7pm
If you have an injury and you would like to start moving safely again with professional supervision this class is for you. When you have experienced pain and injury you can be fearful to join a class in case of aggravation or reinjury. This class is a slow and careful journey through finding safe movement patterns and building strength and muscle length. It is also suitable for students post surgery, cancer recovery, chronic conditions such as MS and acute back pain.
click here to do a full yoga class for back pain  with Vanessa
Iyengar General Level Thursdays 7.15-8.45pm for students who have completed 6 months of yoga
Saturdays term 4 
Iyengar General class 8am- 9.15am
 Beginner's Class 9.30-10.30am
If you cannot start at the beginning of the term you can join midterm and pay for the remaining weeks of that term or attend casually.
Term 4 Prenatal Yoga 6 week course starts 20th October
Fridays 5.30-6.45pm Fee $150
Book and pay your yoga classes online
Iyengar yoga teacher Vanessa Shribman
Vanessa Shribman is an Iyengar yoga teacher of 30 years experience teaching Beginner's yoga, Intermediate yoga and Advanced yoga in West Footscray, Melbourne. She is also a childbirth educator and teaches pregnancy yoga and birth skills. She is also a holistic physiotherapist. She came across Iyengar Yoga in 1987 in India and over the years has worked with senior teachers from all over the world including BKS Iyengar and other members of his family.
What is Iyengar Yoga?
Iyengar Yoga is an authentic, dynamic method of yoga based on the teachings of BKS Iyengar who died in 2014. It strengthens and stretches the body.
Each class is different. Classes are dynamic and exciting. There is a relaxation at the end of each class.
Your teacher will show you the correct alignment in each pose so that you are learning correctly
Poses are modified for you if you have an injury or medical condition.
Students progress methodically with strength and flexibility to master more challenging poses
Iyengar yoga is a practice accessible to all ages
Vanessa opened the Coast Yoga Centre in Glenelg, South Australia in 1994 and has directed it since.  In 2019 she relocated to Melbourne to be closer to her 3 children.
She now teaches in Melbourne At the Body Voice Centre in Footscray.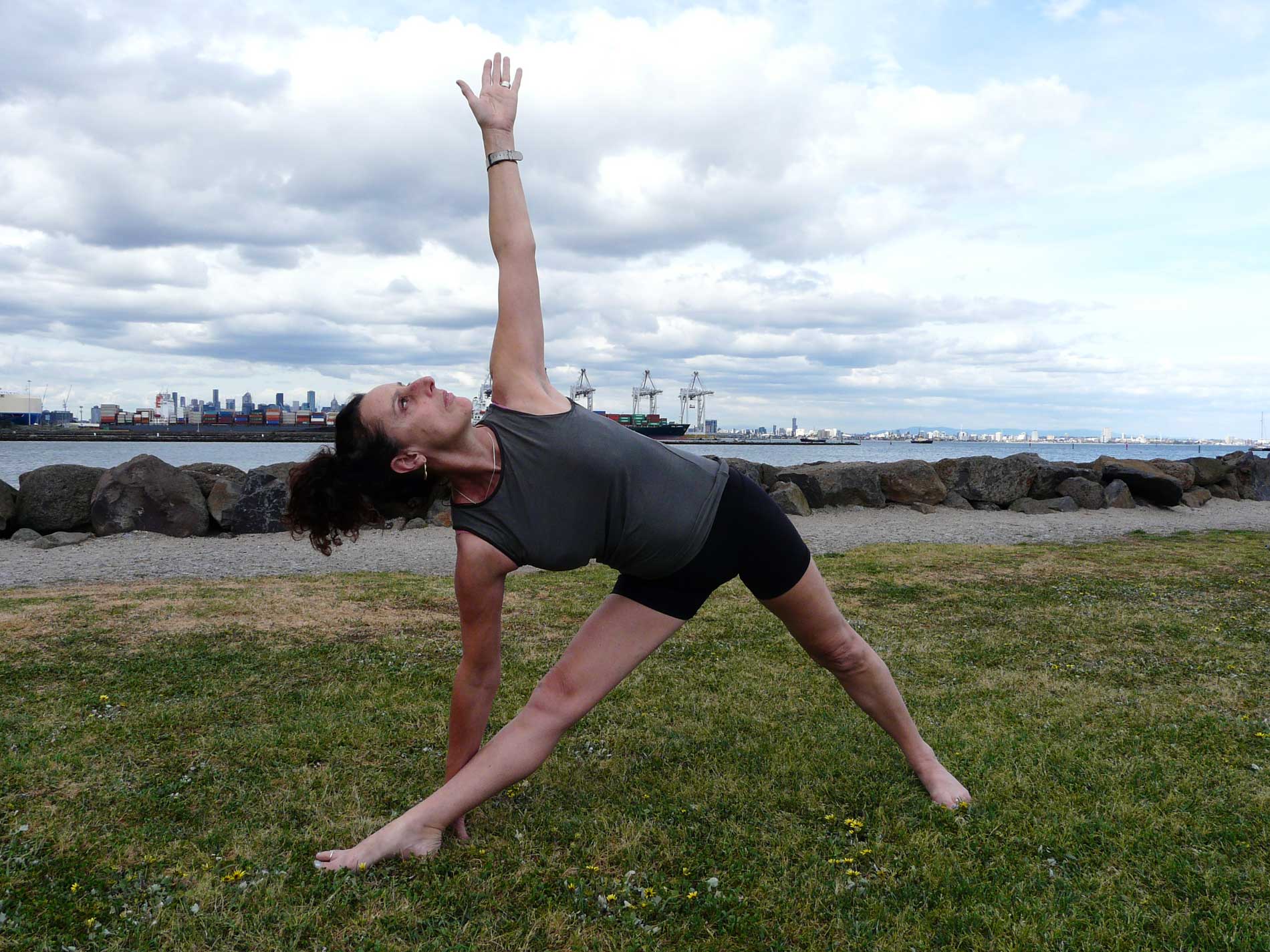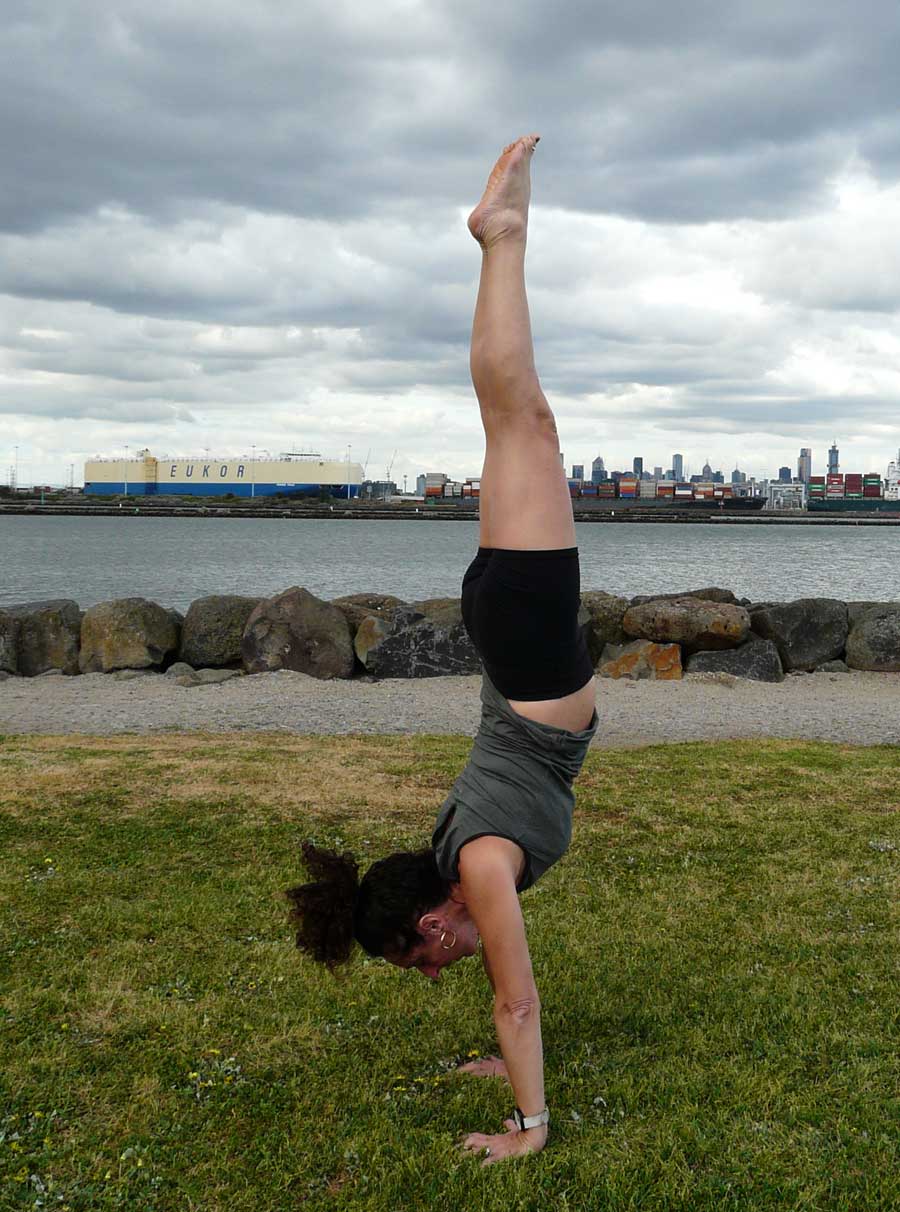 Holistic Package
Vanessa combines her physiotherapy understanding and practice with her knowledge of  yoga to help students who have had long standing pain to get back into moving safely. She works gradually with hands on holistic physiotherapy techniques and yoga to bring about profound and lasting change in the body and mind. Neuroscience tells us that chronic pain, felt in the body, takes root in the connections in the brain. The main way to resolve the pain is to exercise. In order to resolve the pain we must start to move again and reprogram those connections that tell us that the body is in pain, to feel pain free. The more ways in which we move the better. Yoga is a perfect medium for this. It can be slow and cautious but it introduces movement in many different ways and can be graduated to suit the individual. Vanessa will set up an individual program for you that you can practice at home. She will revisit this with you each week or two.
You can book into classes by clicking the link above 
Combining yoga and birth knowledge
Vanessa has also developed pregnancy yoga and birthing skills classes combining yoga and birth knowledge. She trained as a childbirth educator and has taught Prenatal Yoga and Couples Birth Workshops for the last 30 years. Her focus is on keeping birth as normal as possible and finding confidence in your own resources for birth. Classes focusing on natural pain techniques and confidence for birth greatly reduces intervention rates, cesareans, perineal trauma and birth trauma.
Email Melbourne Holistic Physiotherapy
Physiotherapy Bookings
Vanessa works on Wednesdays, Fridays and Saturdays at her home clinic in West Footscray. You can book a physio appointment online by clicking on the link below or by calling 0423912452.
Please allow 60 minutes for your first appointment and come suitably dressed. Please check the FAQs for more information about your appointment or email me.
Contact Info for yoga
The Body Voice Centre, 50 Wolverhampton St, Footscray 3012
0423912452